NEC Display Solutions of America // InfoComm 2016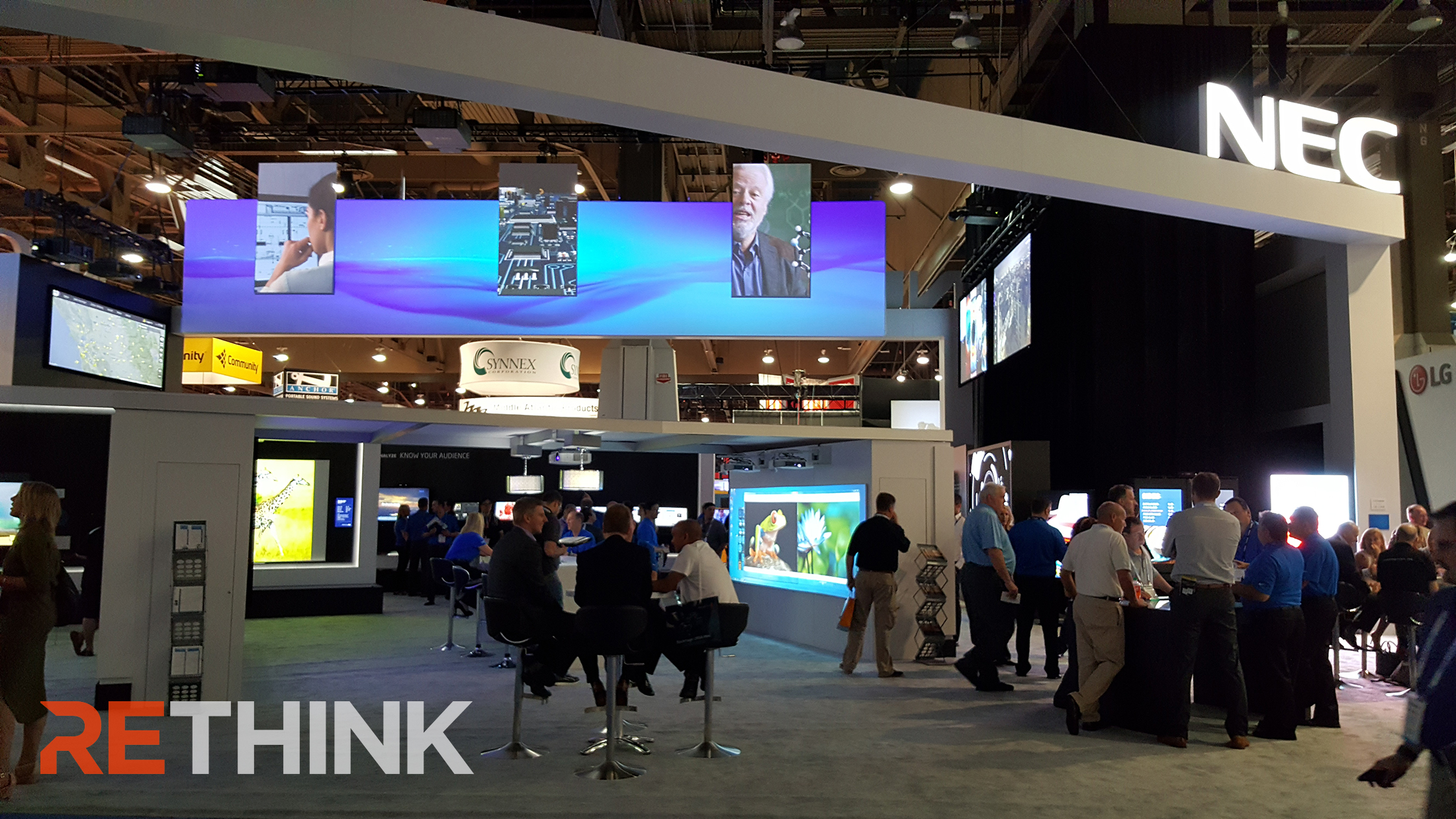 NEC

Display Solutions of America, a leading provider of commercial LCD display and projector solutions, announced a robust set of 4K, data analytics and kiosk solutions with its strategic partners at InfoComm 2016, the largest professional AV show in the world,

June 8-10

in Las Vegas. RETHINK Studios is proud to have been one of those strategic partners by providing digital content that helped showcase

NEC

Display's industry solutions.
RETHINK helped

NEC

Display strengthen the company's presence at the conference, bringing new enthusiasm and energy to the visuals across large format, desktop, projection, OLED, and 4K UHD displays. As an innovator in commercial grade display and projection technologies,

NEC

Display's solutions are utilized in every major vertical market segment, including transportation, education, QSR, and staging.  So content needs to illustrate two key points about

NEC

's products.  First, the superior color and performance of its projectors and displays.  Second, real-world scenarios for how these devices are used in applications. RETHINK provided the highest quality material with creative solutions for this content.
 "Our displays and projectors manifest

NEC

's tradition of innovation, design and ease of use, so the content has to live up to these qualities," said Chris Feldman, Product Manager at

NEC

Display.  "RETHINK delivered stunning material that brought our technologies to life and gave conference attendees a clear picture into their applications."
 "One of our marketing goals for InfoComm16 included elevating our show presence to match the reputation of our industry-leading solutions," said Elizabeth Wolff, Senior Marketing Manager at

NEC

Display.  "The feedback from prospects, customers and partners indicates we achieved our goal, and RETHINK was a key collaborator in this accomplishment."
Brian Bullock, Chief Creative Director of RETHINK Studios commented, "We were thrilled at the opportunity to provide engaging 4K content for

NEC

. "The Ultra 4K footage played seamlessly on

NEC

's 84-inch display, and viewing projected content 30 feet above the showroom floor was truly breath-taking. Everyone from the sales team to the VP of Marketing were thrilled with the results and there was no better place to showcase this content than the largest pro-AV show in the Western Hemisphere!"
InfoComm set a record with this year with 1,000 exhibitors and received more than 38,833 visitors.
RETHINK Studios
Brian Bullock / Chief Creative Director
Jessica Simmon / Executive Producer
Renita Taylor / Producer
Katie Klimkowski / Editor
Dave LeBlanc / Modo artist
Rigel Bowen / Houdini artist
Doo Ma / Maya artist
Production / RETHINK Studios
PIXEL WHIPPED
Michelle Timpone / Co-Creative Director
Todd Watley / Co-Creative Director
Storyboards
2D Design
2D Compositing